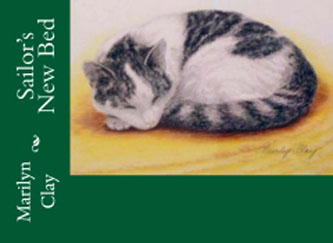 A sweet story about a kitty cat whose 'person' (me) begins to suffer allergies when he sleeps in the house, which means Sailor must find a new place to sleep. Although Sailor looks everywhere for a perfect place to nap, nothing seems right, until at last Sailor finds just the right spot, made especially for him. Sailor is/was the all-time favorite and most beloved of all my kitty cats. He lived to be nearly twenty years old and died in my arms, purring. I drew that picture of Sailor asleep on his little yellow rug and when I later wrote his story, it seemed the perfect cover for his own book. Sailor is also immortalized as a character in my Regency Romance novel Miss Eliza's Gentleman Caller. Sailor's New Bed is available in paperback, and e-book, from Amazon.
To get SAILOR'S NEW BED in either print or Ebook click HERE!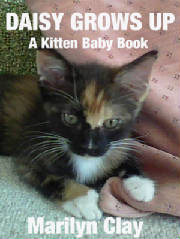 Daisy Grows Up: A Kitten Baby Book is the true story of a kitten named Daisy Mae, who tells her own story (with the help of her 'person' Mom, me) and over 50 photographs that illustrate Daisy's misadventures and her vivid imagination. You'll laugh out loud over Daisy's mischief and the questions she asks as she learns about life in the people world. Beautiful photographs of an adorable calico kitten! Available in paperback and e-book from Amazon and Barnes & Noble.
Get DAISY GROWS UP in Ebook from a choice of online retailers HERE!
Get DAISY GROWS UP in either print or Ebook from Amazon here