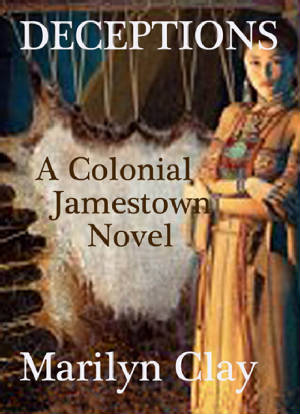 DECEPTIONS: A Jamestown Novel by Marilyn J. Clay was published in hardcover in July 2010 by Thomson/Gale Five Star Mysteries. A large print edition of the novel was released in December 2010. From award-winning author Marilyn J. Clay, DECEPTIONS takes place in Jamestown, Virginia in 1617 and tells the story of an English girl who travels from London to the New World to marry a man she had been betrothed to since childhood.

In the New World, as in the old, adherence to strict moral codes and polite manners rule the colonist's lives, but beneath their proper facade, secret desires rule their hearts. Catherine's beloved, Noah Colton, who has been in Jamestown for six years is now a successful trader who has an uncanny way with Jamestown's closest neighbors, the Powhatan Indians. Noah has gained their trust, as well as that of the entire settlement.

However, nothing could have prepared Catherine for what she finds in the New World. The struggles and hardships become a test of her strength and courage. But when the lies and deceptions and an unsolved murder place her life in danger, she is desperate for help. But, to whom can she turn? Especially, when here in the New World, the only voice of reason is that of a woman...and a mighty Indian warrior named Phyrahawque.

DECEPTIONS is a cross-genre historical novel with romance and suspense elements. "I love doing research and researched this book as carefully as I did my Regency-set novels. I made sure Catherine's shipboard journey was as authentic as possible and in Jamestown, I did not let my characters use a tool that had not yet been invented; that they ate only the sort of food new settlers might have eaten, and that their homes were furnished with the type of home-made furniture that might be found in a colonist's hut in the early 1600s. Amid Captain John Smith's early writings, I was fortunate to find a list of authentic Powhatan words that I made good use of. I had great fun writing DECEPTIONS, and I hope you will also enjoy Catherine's story!" -- Marilyn Clay
Reviewers Comments:
Avoiding an unwanted marriage engineered by her greedy guardians, sheltered Cath­erine Parke flees 1617 London for James­town, VA, where she intends to join her father and brother and marry her childhood love, Noah Colton. But the New World is a shock, and Catherine discovers that Noah is not the man she thought he was. Lies, treachery, and deception bubble just below the surface of this out­wardly pious community, and as the danger mounts, Catherine finds help and romance in an unexpected place. Verdict: With re­alistic, well-researched historical detail, a strong, intelligent heroine, and a fascinating, uncommon setting, this novel will appeal to romance and historical fans alike. -- June 15, 2010 issue Library Journal
A surfeit of fascinating historical details and a refreshingly different setting give Deceptions its unique flavor, making Clay's novel perfect for readers who miss the romance-tinged historical novels of Rosalind Laker. — John Charles, Booklist Review, June 1, 2010
"DECEPTIONS is a masterfully crafted novel packed with little-known historical details and tidbits; a real page-turner." -- Richard Whitaker, historian.
"DECEPTIONS delivers page-turning suspense and knife-edged tension. A heart-pounding romance with captivating characters!" -- Melissa Frederick, author.
"Marilyn Clay's DECEPTIONS is a multi-layered story of struggle, lies and the quest for love in the New World. The author remains faithful to historical detail, including language and actions; really setting the reader into the time period. It was a joy to read such a wonderfully written historical novel. In fact, Ms. Clay so grounds the reader in the historical period that I wouldn't be surprised to see tourism to Jamestown rise as a result of reading this book! Readers of historical fiction will find themselves completely immersed in the time period and, more importantly, in the story of feisty and intelligent Catherine, whose voyage to Jamestown is the beginning of a life-changing journey." -- Edgar nominated author Libby Sternberg/Libby Malin
"DECEPTIONS is a great, fast-paced read with wonderful historical detail. The heroine really matures throughout the story and you come to care about her trials and triumphs. A highly recommended read!" -- Angela Walsh, author.
"Marilyn J. Clay's novel DECEPTIONS is packed with historical detail authentic to the period! Coupled with a romance and a mystery, DECEPTIONS is an exceptionally enjoyable read!" --Linda Abel, publisher of The Medieval Chronicle
DECEPTIONS is now available for the Kindle at Amazon.com and for the Nook Reader at B&N.com (links below); or ask your local library to order a copy of DECEPTIONS by Marilyn J. Clay from 5-Star Gale/Cengage.
To order an authographed hardcover edition of either DECEPTIONS or SECRETS AND LIES ($20. plus $6.00 s/h) or a FREE paperback edition (you pay only $6. s/h) contact the author at the e-mail link below.
Be sure to read about Marilyn Clay's newest Colonial American novel, BETSY ROSS: ACCIDENTAL SPY by clicking on the link in the column on the left hand side of this page. Thank you!
Order e-book from Amazon for your Kindle here
Visit Marilyn Clay's Author Webpage
Here's a short excerpt from Chapter 1 of DECEPTIONS:

London, March 1617

The bright morning sun, squinting through panes of wavy leaded glass scattered patches of bright light on the uneven floor of the small garret room. Furnished only with a narrow bed, a cupboard, chair and low washstand, not even the sun could brighten up the cramped space squeezed beneath the tiled roof of the otherwise elegant London townhome.

Light falling across her face awoke Catherine. With a low groan, she turned toward the wall, at once aware of the same sense of dread and foreboding that had twisted her insides the entire past month. Moments later, blinking sleep from her eyes, she pulled herself upright and cast an anxious gaze about the tiny chamber she'd called home the past six years. The austere furnishings and low ceiling had always made her feel like a prisoner...and unless she could figure out a way to escape today, she would virtually become one, her future lost to her forever.

As usual this time of morning, the third floor of the sumptuous townhome, built by the popular architect Inigo Jones, was silent as a tomb. The maidservants who occupied rooms on either side of Catherine arose far earlier than she in order to scurry belowstairs and get about their duties.

Catherine had been a girl of ten and two years when, upon the death of her mother, she'd been sent up to London to live with the aristocratic Lord and Lady Montcrief, to whom she'd been told she had some connection, though no on had bothered to explain to the grief-stricken little girl what that connection might be. During the ensuing years, Catherine had tried to please her guardians. Still, she knew they thought her a foolish gel because she wanted the selfsame thing today that she wanted six years ago...to reunite with her father and brother and spend the rest of her life in the arms of her beloved.

Finding a way to escape the Montcrief household should be easier for a grown-up young lady of eighteen years. But thus far, no opportunity had presented itself, and now, today, time had all but run out. If she did not find a way to escape today, all would be lost. She'd never see her father, or brother, or him again.
DECEPTIONS is now available as an e-book for B&N's Nook, the Kobo e-reader and for the Kindle as either DECEPTIONS: A COLONIAL JAMESTOWN NOVEL or THE LETTER.


For information on anything you see on this site, e-mail author MARILYN CLAY here.